Branding versus Marketing
by Megan Baker, Design Enterprise Studio Member, March 2022
Hi, my name is Megan, and I am a member of the Design Enterprise Studio. From my experience, I have found that there are many topics and practices in the digital media industries that seem to overlap. It can be difficult for organisations to differentiate efficiently between them and ensure they are being applied in the best way possible. In this article, I will be discussing the difference between two prominent business topics, branding and marketing.
As a business owner, you may be familiar with the concepts of branding and marketing. While both of these concepts are connected, they are also very different from each other. By understanding the differences between branding and marketing, you can use them together effectively and grow your business exponentially. To begin, what is exactly is marketing?
Marketing is defined as the set of tools, processes and strategies you are using to promote your product or service. Marketing is how you get your message out, the actions you are taking to connect with your customers and sell your products. For example, SEO, social media, print campaigns and more. A general rule is to spend 5% of your sales revenue on marketing, but this may vary depending on the sector or whether you are a new business.
So how is branding different? Branding is about defining who you are as a company, your values and what makes you distinct from other sellers. This is done using key brand elements like your logo, your visual style, your tagline, the promises you are making. The average UK startup spends between £150 to £250 on their logo and £500+ for small businesses. A brand identity package, which is a set of resources, will cost significantly more.
"If marketing is what gets people to engage with your company for the first time, branding is what keeps them coming back for years to come" Deanna deBara, 'Marketing vs Branding: What's the difference?'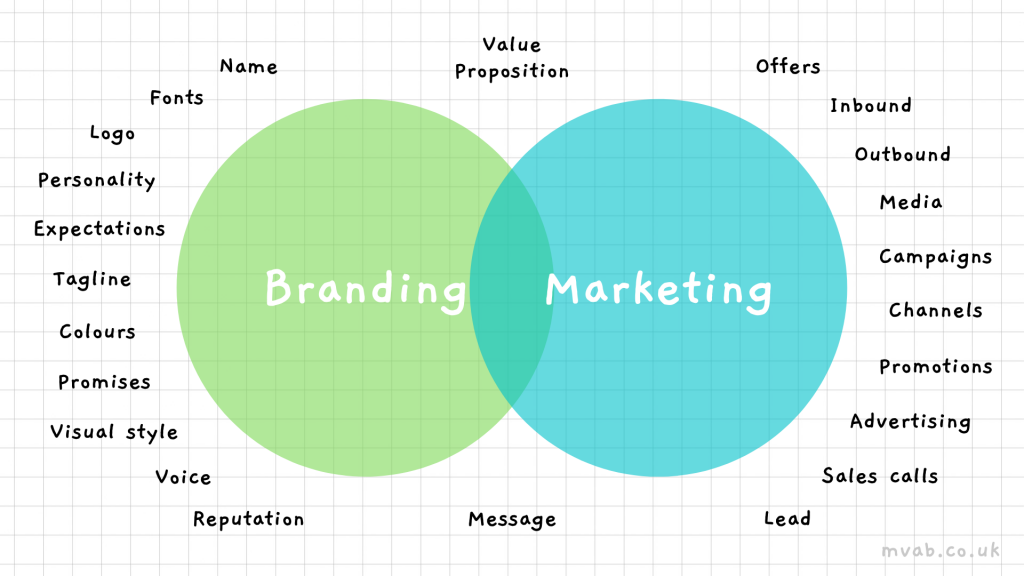 To better understand the difference between branding and marketing, creative entrepreneur  Phillip VanDusen noted six key distinctions between the two:
1. Branding is the what and why. Marketing is the how.
Branding is concerned with what the products and services are, what do they do and what is the value that is delivered or the value proposition. Branding is also why a seller does something.
Marketing is about tactics and how the seller will go to market. How will they promote their goods? Marketing is also about advertising and communicating the functional and emotional benefits of the product or service.
2. Branding is long-term. Marketing is short-term.
Branding is concerned with long-term equity and value. It's about establishing a stored memory, experience, perception in the consumer's mind that lasts a long time.
On the other hand, marketing is concerned with short-term activity and generating immediate action.
3. Branding is macro. Marketing is micro.
Branding is about the big picture, it's about overarching perceptions and attitudes, and not about short-term activities. For example, Adidas aims to have all of its shoes and clothing to be made with recycled polyester by 2024.
Marketing is concerned with details, with actions being taken and with activities that are happening that are generating sales. To show their commitment to sustainability and good environmental practices, Adidas gave 200 global creators their first 100% recyclable shoe for beta testing.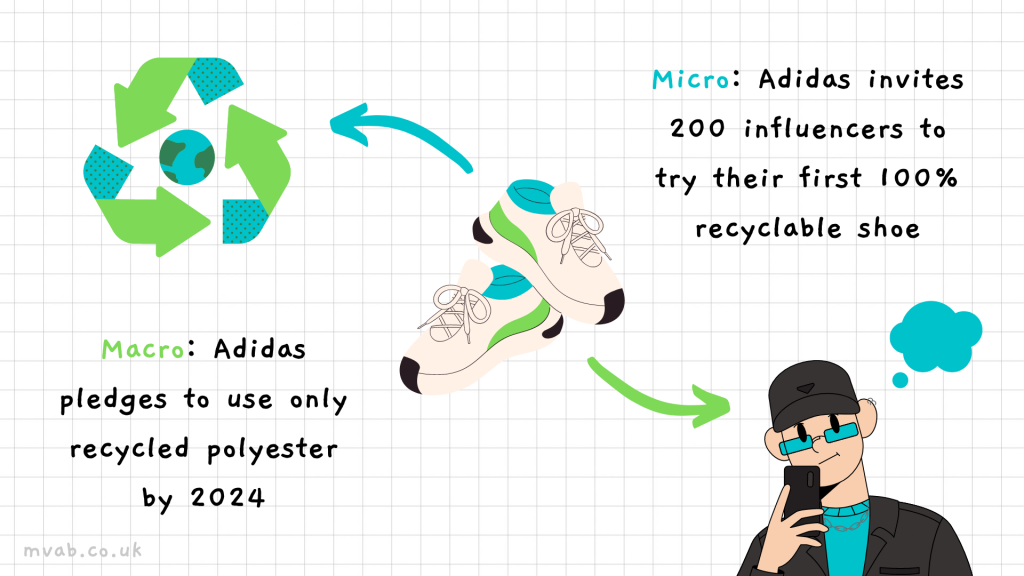 4. Branding is trajectory. Marketing is tactics. 
Branding is about long-term direction. Where are we going with the strategic direction of our brand? Where is the company positioning itself in the marketplace in relation to its competition?
Marketing is about tactics and moving forward, taking short-term action. What is the action we are going to take? When and where are we going to take that action?
5. Branding builds loyalty. Marketing generates action.
Branding is concerned with what the consumer feels about the brand in the long term and how loyalty is built. 
Marketing is concerned with short-term, quick, immediate action. Anything that is going to create immediate results for the brand.
6. Branding defines value. Marketing monetizes value.
Branding seeks to instil a deep emotional resonance into the consumer about the brand. How do you get people to share about the brand by word of mouth? And to share their preference about what brands to use with other people?
Marketing is about turning that value into money for the functional and emotional benefits the brand is delivering.
Branding is the foundation upon which you will build consumer loyalty, and it is essential to define who you are as a brand before you begin to devise marketing methods and strategies. Marketing methods will evolve over time to fit in with current trends in society and the industry, whereas your branding remains constant.
Understanding the difference between marketing and branding will significantly strengthen your business. Branding is fundamental to your marketing strategy. Even if you are following effective marketing tactics, your conversions will be lower if consumers aren't connected to you as a brand. 
You can get started in improving your business by evaluating your brand identity: is it distinctive in comparison to other brands? And most importantly, does it reflect the message you are trying to get across?